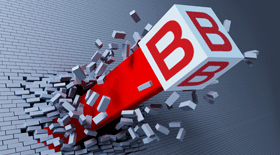 The Governor's Office of Business and Economic Development (GO-Biz) has launched a new Web page that highlights the best practices of business groups, and state and local permitting agencies that are making their programs more user-friendly for businesses.
B³ Champions
The Web page, Breaking Barriers to Doing Business, was developed to streamline the permitting process and make it easier for businesses in the state. Those groups highlighted in the program are recognized as B³ Champions for their hard work and innovative efforts to help the business community start up, grow and expand in California while upholding state standards.
"Through our new B³ program, GO-Biz is able to shine light on the good work that is done within California state and local agencies that improves the permitting and regulatory climate for businesses," said GO-Biz Permitting Specialist Poonum Patel. "The program will not only give our team the opportunity to share improvement plans with government agencies but will also encourage those interested in making changes to lead by example."
Groups Recognized
More than a dozen cities, counties and state agencies have been recognized, including: the cities of Elk Grove, Turlock, Anaheim and Rancho Cordova, California Department of Industrial Relations, California Department of Fish and Wildlife, California Department of Business Oversight, North Coast Regional Water Quality Control Board, California Department of Toxic Substances Control, Department of Resources, Recovery and Recycling, Central Valley Regional Water Quality Control Board, and State Water Board.
Contact Information
For more information on the B³ program, or to view the business programs highlighted by GO-Biz, visit
www.business.ca.gov.
To nominate a company or apply to be a B³ Champion, call a permit specialist at (877) 345-4633.