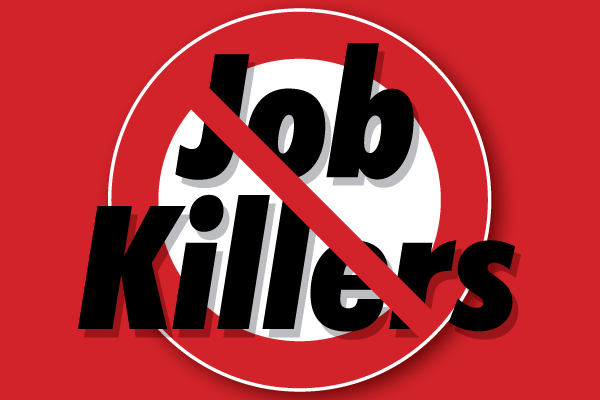 In the final days of the legislative session, a handful of "job killer" proposals remain alive despite strong opposition from the California Chamber of Commerce and other groups.
Legislation that increases the cost burden on employers is unacceptable, particularly in light of a recent study by the California Foundation for Commerce and Education showing that operating costs for California businesses are, on average, 19% higher than competitors in the rest of the nation (see August 15 Alert).
Ongoing discussions mean the substance and status of some bills may change, but as Alert went to print, the following "job killer" bills remained in play.
CalChamber Capitol Report videos have highlighted problems with the bills.
Economic Development Barriers
• AB 2617 (Weber; D-San Diego) Interference with Arbitration Agreements and Settlement Agreements. Unfairly prohibits the enforcement of arbitration agreements or pre-litigation settlement agreements that require the individual to waive their right to pursue a civil action for the alleged violation of civil rights.
• AB 2416 (Stone; D-Scotts Valley) Unproven Wage Liens. Creates a dangerous and unfair precedent in the wage and hour arena by allowing employees to file liens on an employer's real or personal property, or property where work was performed, based upon alleged yet unproven wage claims.
https://www.youtube.com/watch?v=HRT3CtOt0Fg
• AB 1897 (R. Hernández; D-West Covina) Contractor Liability. Unfairly imposes liability on a contracting entity for the contractor's wage and hour violations and lack of workers' compensation coverage despite the lack of any evidence that the contracting entity controlled the working conditions or wages of the contractor's employees.
https://www.youtube.com/watch?v=M_FQvuNHMc4
• AB 52 (Gatto; D-Los Angeles) Substantial Expansion of California Environmental Quality Act (CEQA). Creates more opportunities for litigation and substantially increases project cost and delay by creating mandatory consultation requirements with Native American Tribes and by requiring lead agencies to analyze a project's impacts to an entirely new resource area called Tribal Cultural Resources.
Costly Workplace Mandates
• AB 1522 (Gonzalez; D-San Diego) Paid Sick Leave. Increases employer mandates by requiring all employers, large and small, to provide all employees in California with paid sick leave, and threatens employers with statutory penalties and litigation under the Private Attorneys General Act (PAGA) for alleged violations.
Action Needed
The CalChamber is urging members to ask their legislators to oppose these "job killer" bills.
Easy-to-edit sample letters are available at www.calchambervotes.com.