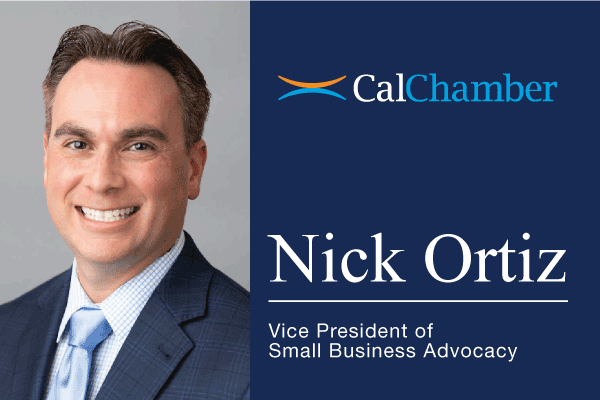 The California Chamber of Commerce and the Western Association of Conference Executives (W.A.C.E.) announced this week that Nick Ortiz, president and CEO of the Greater Bakersfield Chamber, will take on dual roles with the organizations on February 27.
Ortiz will serve as CalChamber vice president of local chamber relations and W.A.C.E. president and CEO.
He will be taking over the responsibilities of Dave Kilby, CalChamber executive vice president and W.A.C.E. leader, who will retire at the end of February.
"Nick is a dynamic leader who brings incredible experience and leadership skills to both CalChamber and W.A.C.E.," said CalChamber President and CEO Jennifer Barrera. "Local chambers and the small business members they represent are a critical component of effective advocacy for employers in the state. Nick's knowledge of statewide, regional and local issues, along with his ability to amplify the voices of local chamber small business members will be a big asset in our advocacy efforts on behalf of California's job creators at the State Capitol."
Barrera added, "We are so grateful for the leadership of retiring CalChamber Executive Vice President Dave Kilby. Dave is an institution at CalChamber who is nothing short of passionate about local chamber excellence. Our Board members, staff and California's business community are indebted to Dave for his dedication, work ethic and commitment over his long and exceptional career."
Jeremy Harris, chair of the W.A.C.E. Board and Long Beach Area Chamber of Commerce president and CEO, also commented on the selection of Ortiz for the new roles. "We congratulate Nick Ortiz and look forward to his leadership at both the California Chamber of Commerce and as the president and CEO of W.A.C.E. Nick is no stranger to W.A.C.E., having been a member since 2015 and a graduate of W.A.C.E. Academy, serving on both the W.A.C.E. Board and Foundation Board, and presenting multiple times at our annual conference in front of many of our colleagues across the industry," Harris said.
"I also want to take the time to thank our outgoing President and CEO Dave Kilby for his many years of dedication to our industry and W.A.C.E. as he transitions to retirement," said Harris.
Ortiz was appointed president and CEO of the Greater Bakersfield Chamber in 2015. During his tenure, the Bakersfield Chamber experienced membership and revenue growth and successfully executed several key initiatives, including the Bakersfield-Kern Regional Branding Initiative; the campaign to pass Measure N, the City of Bakersfield Public Safety and Vital Services Initiative; the launch of B3K Prosperity; and, most recently, bringing the California Economic Summit to Bakersfield.
"Thriving communities are built on a foundation of strong and successful businesses, and our local chambers are the frontlines, helping their communities and local businesses succeed," said Ortiz. "I'm thrilled to be able to support our local chambers, and their incredible executives and staff professionals, at the CalChamber and W.A.C.E. Both organizations have provided me with invaluable experience and educational opportunities, and I'm looking forward to working with regional leaders to advance their goals and meet the needs of job creators."
Ortiz continued, "A big part of my success has been the advice and expertise of industry veterans like outgoing CalChamber Executive Vice President and W.A.C.E. President and CEO Dave Kilby. Dave has been a coach, counselor and conscience for so many local chamber executives through the years. I can't thank him enough for the support he's provided me, and I know there are hundreds who feel the same way. I offer him my heartfelt gratitude, and best wishes as he transitions into retirement."
Ortiz's previous experience includes positions with the Western States Petroleum Association, PG&E, Assemblywoman Nicole Parra, United Way and the Silicon Valley Leadership Group.
He is a graduate of the University of California, Santa Cruz.