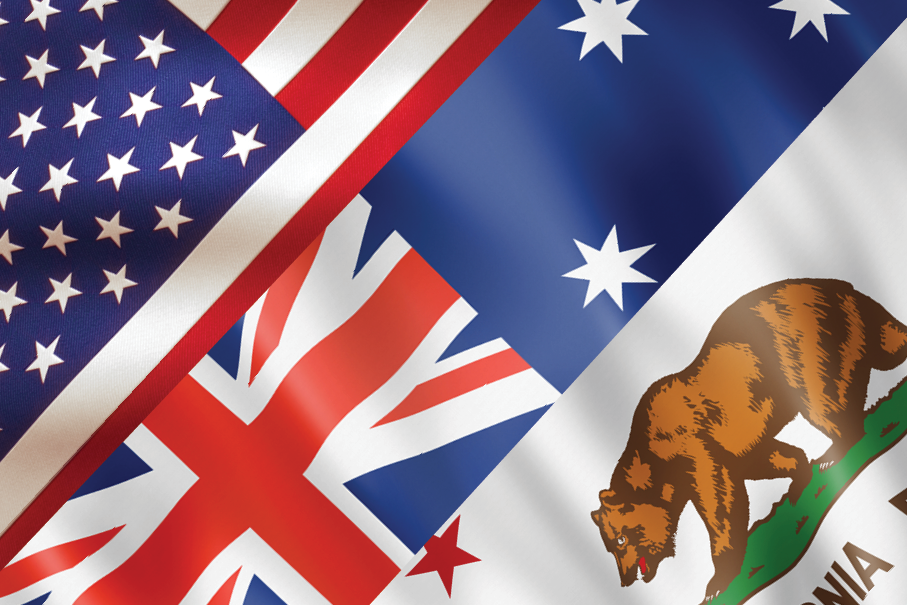 Multiple connections enhance continuing strong economic relations between Australia, the United States and California, Ambassador Jane Duke, Consul General of Australia in Los Angeles, recently told a California Chamber of Commerce breakfast audience.
Speaking at the September 9 gathering of the CalChamber Council for International Trade, the Ambassador pointed to private sector opportunities in sectors such as critical minerals, supply chains, quantum, defense and space industries, and green energy. The breakfast meeting, attended by more than 30 representatives of the business community and the CalChamber Board of Directors, was sponsored by United Airlines.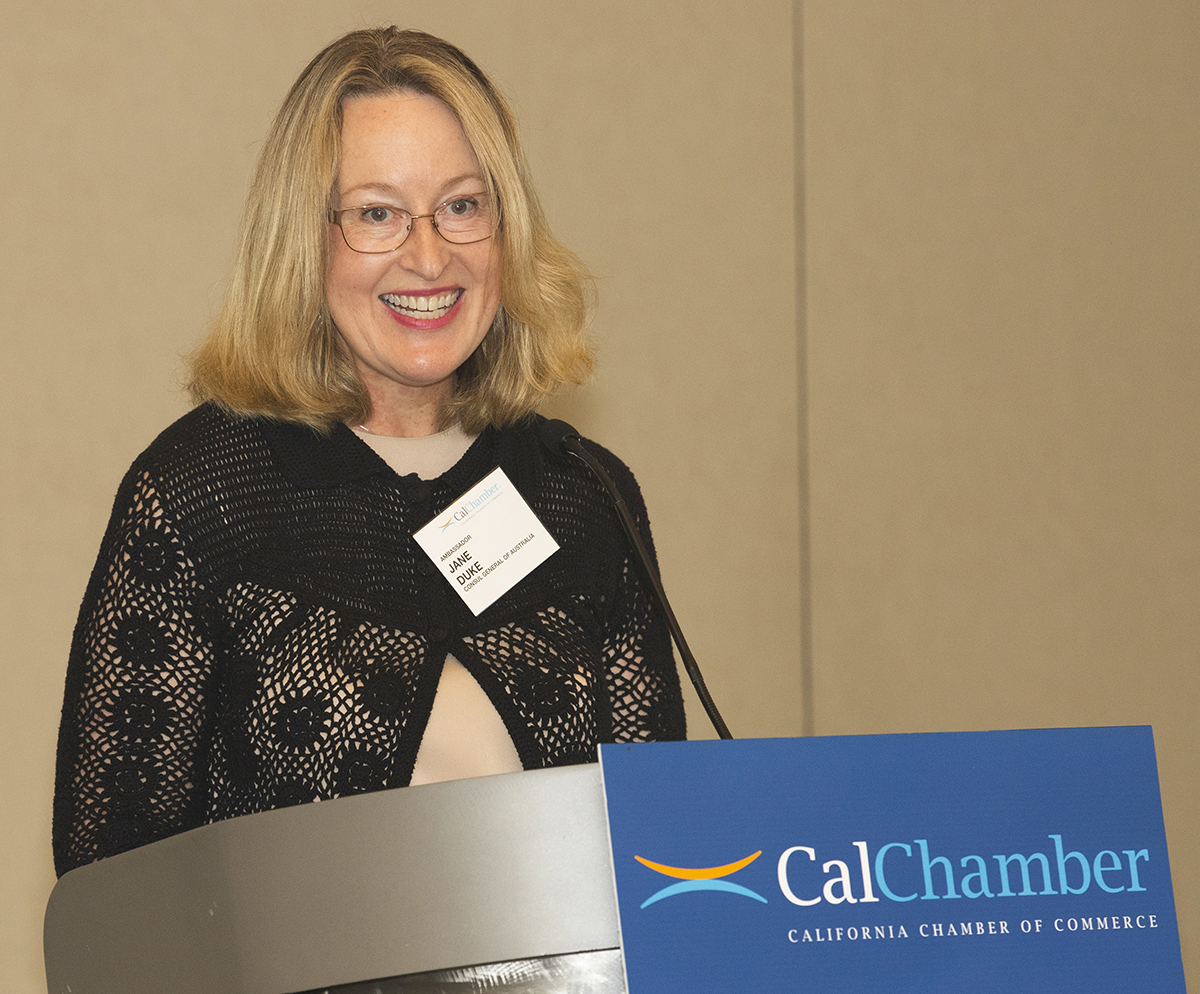 Australia-U.S. Free Trade Agreement
Ambassador Duke recapped the benefits to the United States, Australia and California from the Australia-U.S. Free Trade Agreement (AUSFTA), which in 2020 had been in operation for 15 years.
"It is a special agreement which befits our special relationship," Duke said. Examples include: U.S. investors enjoy special treatment for investments worth less than US$1 billion, while U.S. exporters face zero tariffs entering Australia.
The United States is Australia's second largest two-way trading partner in goods and services while California exports more to Australia and imports more from Australia than any other U.S. state.
Duke encouraged listeners "to view AUSFTA as the door which opens U.S. businesses' expansion into Asia's growth markets." She explained that Australia has a network of 15 trade agreements providing preferential market access to export markets in the Indo-Pacific, including new bilateral agreements with India and Indonesia.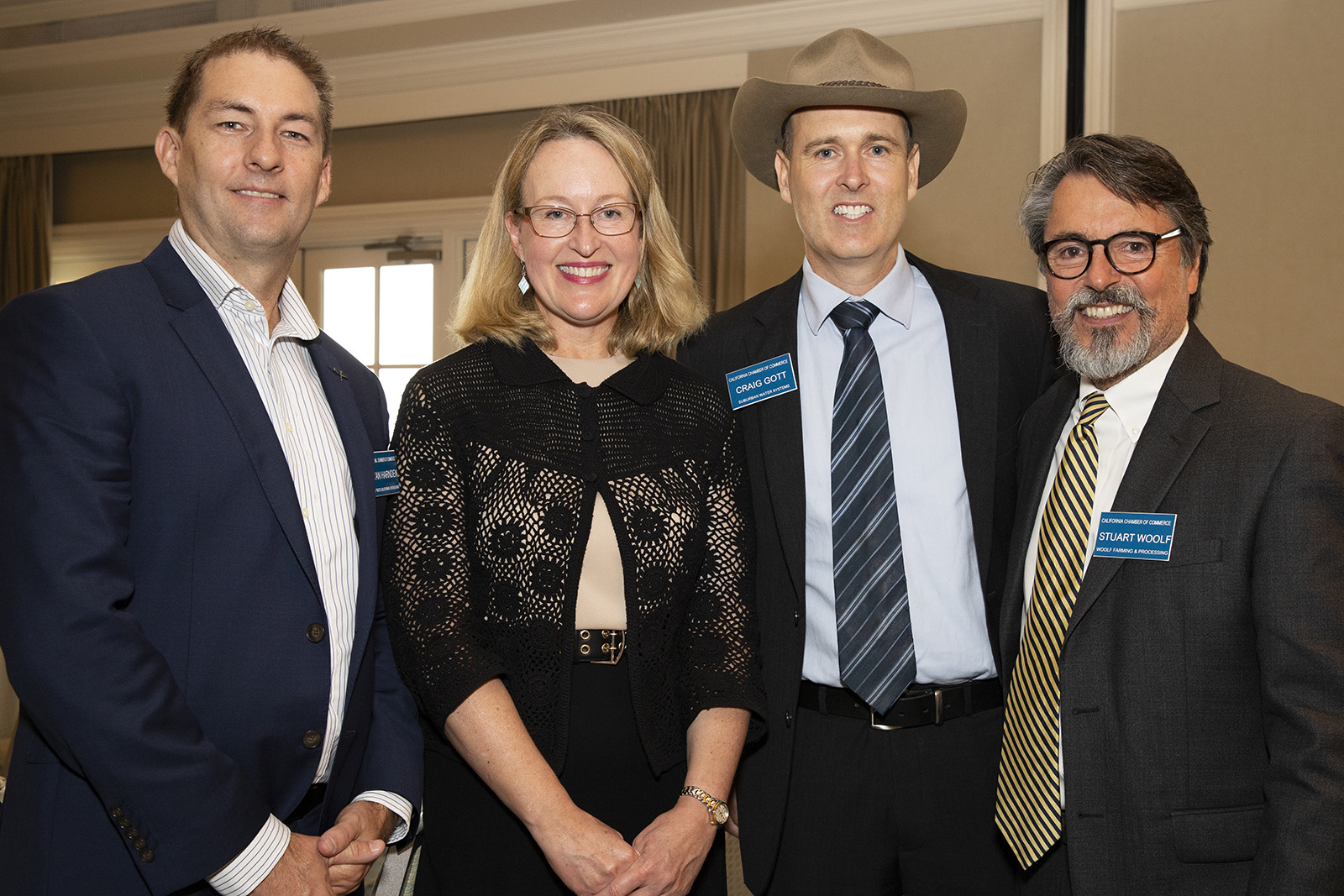 Indo-Pacific Economic Framework
Having just come from the first face-to-face ministerial meeting for discussions on the Indo-Pacific Economic Framework (IPEF) launched in May by President Joe Biden, Ambassador Duke said Australia commends the U.S. for its leadership role.
She said the IPEF features four pillars, with details to come from the post-meeting ministers' statement:
• trade;
• supply chains;
• clean energy, decarbonization and infrastructure; and
• tax and anti-corruption.
Inflation Reduction Act
The recent passage of the U.S. Inflation Reduction Act (IRA) will further strengthen U.S.-Australia relations by allowing the two countries to expand their critical minerals supply chain partnership, according to the Ambassador. The IRA includes tax incentives for U.S. trade partners like Australia that can contribute critical minerals for manufacturing electric vehicle batteries.
She pointed out that Australia is the world's largest producer of lithium, third largest producer of raw cobalt and fifth largest producer of nickel, making it "very well placed to meet the needs of U.S. automakers as they seek to diversify their supply chains and source responsibly."
Australia-California Relations
Key sectors for Australian investment in California include finance, construction and manufacturing, and professional services. More than 400 Australian firms employ nearly 12,000 people in California.
Many Australian companies find California a friendly place to invest, Duke observed. Examples she cited include Resmed, a major Australian medical company, which is headquartered now in San Diego and became a major supplier of U.S.- and Australian-made ventilators to California at the beginning of the pandemic.
Australian climate technology innovators are coming to California to take advantage of the entrepreneurial climate, deep venture capital resources and ambitious climate policy settings, Duke said. One such company is Tritium, a Brisbane-based designer and manufacturer of direct current (DC) fast chargers that has a facility in Torrance, California and was listed on the NASDAQ earlier this year.
Other Australian companies are leading in green hydrogen, lithium and geothermal energy, and energy storage, she said. Smaller companies in rooftop solar and other industries also are enjoying growth opportunities, she added.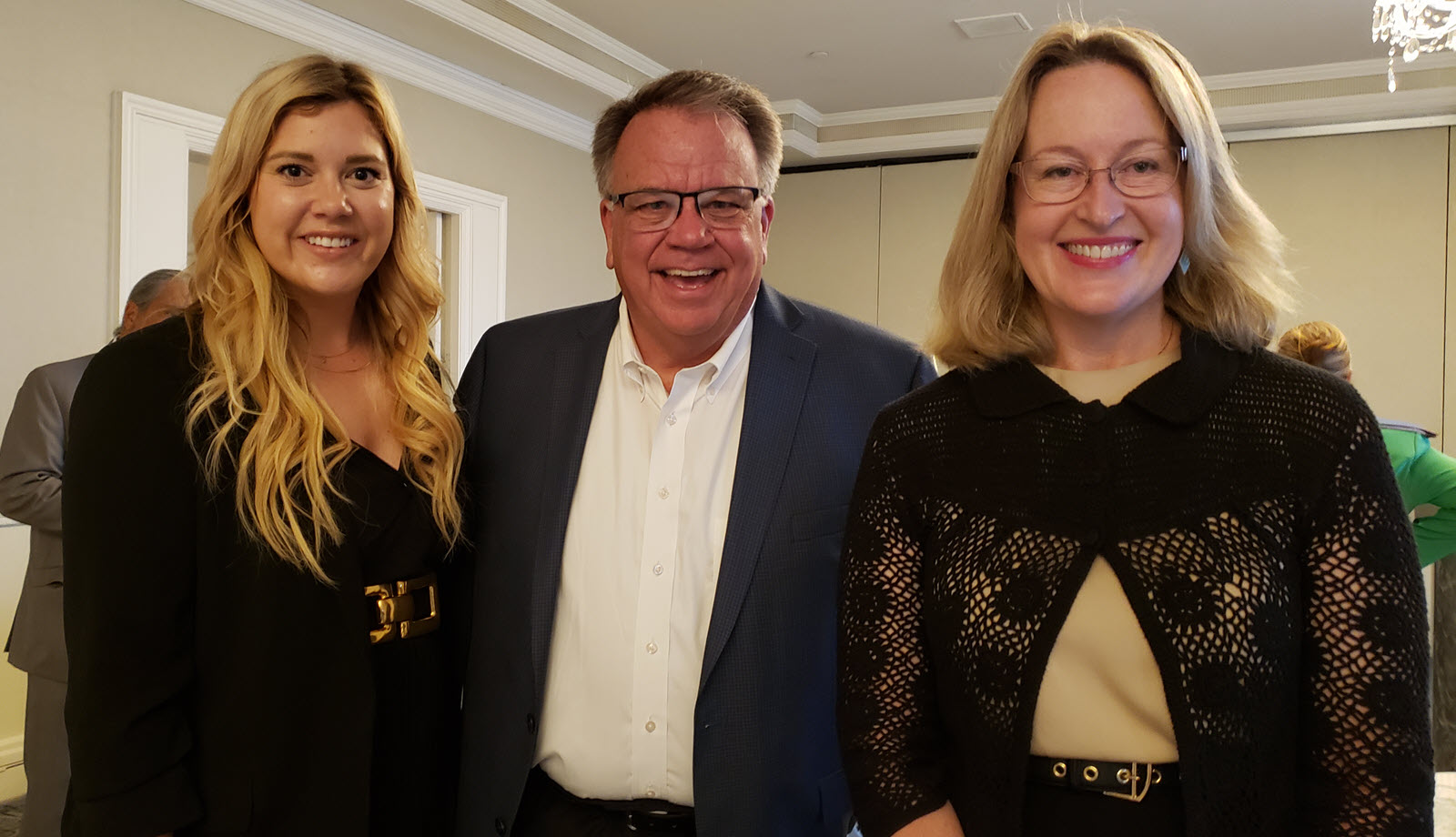 Invest in Australia
Summarizing reasons for California companies to invest in Australia, Ambassador Duke pointed out that Australia has just 0.3% of the global population but makes up 1.6% of the world's economy and is the 13th largest economy in the world. Australia has enjoyed three decades of economic growth, including during the COVID-19 pandemic, when most developed economies shrank.
Although Australia is known for its resources exports, 80% of the economy is made up of services, with the country's largest services export being education. Australian universities consistently rank among the world's best, Duke said, providing highly skilled workers, particularly in engineering, software development and R&D.
Australia's legal system is similar to that of the United States and the ease of doing business in Australia ranks competitively in global surveys, the Ambassador commented.
Australia is a great place to visit and to live, she concluded, noting that four cities in the Economist's 2021 most livable cities are in Australia — Adelaide, Perth, Melbourne and Brisbane.
Skilled Workers
Australia recently announced a major uptick in its skilled migration program to address growing demand. Moreover, a special visa category available only to Australian nationals, the E-3, enables businesses to fill specific skills shortages in a range of industries at no cost, Ambassador Duke said, strengthening the U.S. economy without displacing American workers.
For employers, there are no fees associated with the E-3 visa, which is valid for two years with an unlimited number of extensions.
Closer Connections
The Ambassador said she has been working over the last year in Los Angeles with the American Australian Association to help bring the Australian and U.S. business communities closer together. They have established a West Coast chapter of the association's business council, made up of members from a diverse range of industries having operations across Australia and the United States.