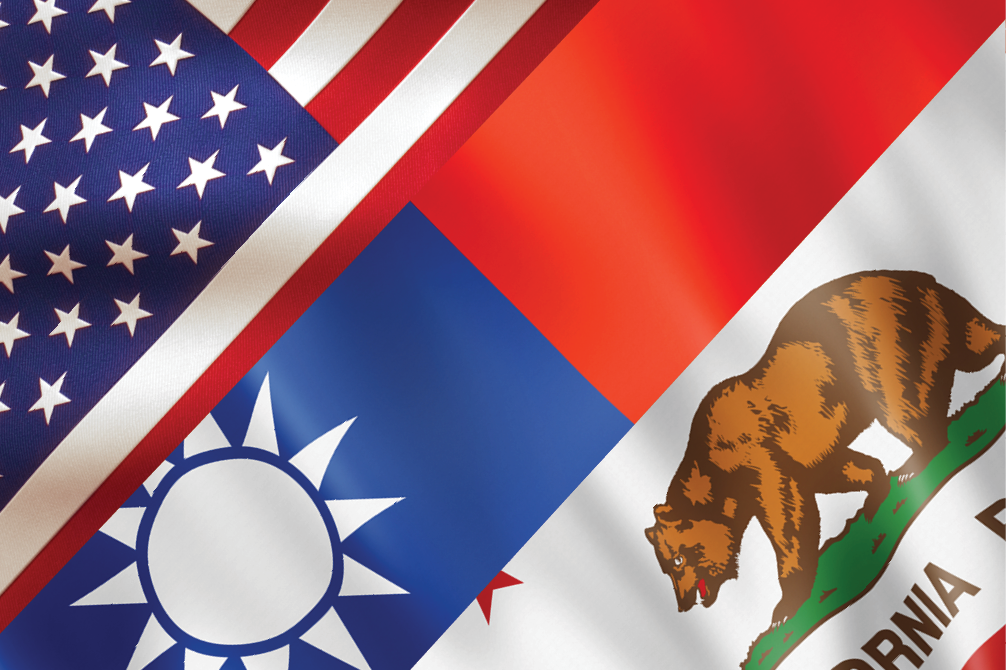 The United States and Taiwan have begun formal negotiations on the U.S.-Taiwan Initiative on 21st-Century Trade.
The two sides announced on August 17 that they have reached consensus on the negotiating mandate for the initiative. They announced their intent to pursue the framework on June 1.
The negotiating mandate lays out broad objectives shared by the two sides, covering 11 trade areas. The negotiations for the framework are expected to follow an ambitious schedule with the first round of negotiations anticipated to take place this fall.
Amidst discussions, the two sides also agreed on what will not be reviewed during negotiations, which includes the possibility of tariff cuts.
U.S. and Taiwanese representatives met for the first time at the end of June in Washington, D.C., laying out an outline for the framework's negotiations. Topics of discussion then covered many of the same areas as the Indo-Pacific Economic Framework (IPEF), including digital trade, expanding agriculture trade, aligning technological standards, and responding to non-market economies in the region, like China.
Negotiating Mandate
The negotiating mandate for the U.S.-Taiwan Initiative on 21st-Century Trade includes addressing the following 11 trade areas, at a minimum, during the negotiations.
• Trade facilitation. Seek to harness best practices with respect to facilitating trade.
• Good regulatory practices. Seek to reflect shared values of good governance and respect for the rule of law through adopting sound and transparent regulatory practices.
• Anticorruption. Seek to adopt strong anticorruption standards to prevent and combat bribery and other forms of corruption.
• Small and Medium-Sized Enterprises (SMEs). Seek to support and enhance trade by U.S.-Taiwan small and medium-sized enterprises, including those owned by underrepresented groups and women entrepreneurs, and those in disadvantaged communities.
• Agriculture. Seek to facilitate agricultural trade through science- and risk-based decision making, and adopting sound and transparent regulatory practices.
• Standards. Seek to collaborate on standards, technical regulations, conformity assessment processes, and trade barriers.
• Digital Trade. Seek to advance outcomes in digital trade that benefit workers, consumers, and business.
• Labor. Seek to adopt provisions that support international labor rights, increase worker opportunity, and increase trade as a force for good through promoting gender equity and equality.
• Environment. Seek to deepen cooperation and joint approaches on trade and the environment.
• State-owned enterprises. Seek to address distortions that occur to international trade and investment from the non-market practices of state-owned and state-controlled enterprises and government-designated monopolies.
• Non-market policies and practices. Seek to adopt provisions that promote collaboration on ways to address harmful non-market policies and practices.
Taiwanese officials released their own set of goals for the negotiations, including: strengthening Taiwan's economy; strengthening U.S.-Taiwan investment; strengthening the institutionalized connection between Taiwan and other countries, specifically the Comprehensive and Progressive Trans-Pacific Partnership (CPTPP) countries; and strengthening the island's market-based economic system.
The negotiations for the framework will continue under the auspices of the American Institute in Taiwan (AIT) and the Taipei Economic and Cultural Representative Office in the United States (TECRO) because of the 1979 terms for U.S. diplomatic recognition of the People's Republic of China which required the U.S. to sever formal diplomatic links with self-governing Taiwan.
Deputy U.S. Trade Representative Sarah Bianchi, who is leading the U.S.-Taiwan negotiations, expressed hope that the new pact will "build a fairer, more prosperous and resilient 21st-century economy" and "deepen our trade and investment relationship, advance mutual trade priorities based on shared values, and promote innovation and inclusive economic growth for our workers and businesses."
U.S.-Taiwan Trade
Taiwan is the 11th largest importer of U.S. goods. In 2021, the United States imported $77.13 billion in goods from Taiwan and exported $36.94 billion in goods to Taiwan. Top export categories included computer and electronic products, non-electrical machinery, oil and gas, and chemicals.
The United States is Taiwan's second largest trading partner and a key choice for Taiwanese investors.
California-Taiwan Trade
California exported more than $8.94 billion worth of goods to Taiwan in 2021. Top categories included computer and electronic products, transportation equipment, waste and scrap, and chemicals.
California has the second highest amount of exports to Taiwan within the United States and Taiwan is the sixth largest importer of California goods and services, the fourth largest in Asia.
Foreign Direct Investment
U.S. foreign direct investment (FDI) in Taiwan was $16.76 billion in 2021, while Taiwanese FDI into the United States was $23.37 billion in the same year.
In 2020, Taiwan was the ninth fastest growing source of FDI into the United States. Taiwanese FDI in the United States supported 21,000 jobs through workers employed by U.S. affiliates of majority Taiwan-owned firms and $178 million in research and development in 2019. Taiwan also contributed $1.5 billion to expanding U.S. exports.
The top industry sectors for Taiwanese FDI were semiconductors, communications, business machines, software and information technology (IT) services, electronic components, and transportation. (Select USA)
Taiwan supports an estimated 323,456 jobs in the United States through trade and investment from Taiwanese companies and exports of U.S. goods and services to Taiwan. Almost 90,000 of these jobs are in California.
In California, Taiwan is the 10th largest source of FDI through foreign-owned enterprises (FOEs). In 2021, Taiwanese FOEs in California provided 16,956 jobs through 405 firms, amounting to $1.65 billion in wages. The top jobs by sector are leisure/hospitality, other services, professional/business services, manufacturing, and wholesale trade (World Trade Center Los Angeles FDI Report, June 2022).
CalChamber Position
The California Chamber of Commerce supports expansion of international trade and investment, fair and equitable market access for California products abroad, and elimination of disincentives that impede the international competitiveness of California business.
The Indo-Pacific region represents nearly half of the Earth's population, one-third of global gross domestic product (GDP) and roughly 50% of international trade. The large and growing markets of the Indo-Pacific already are key destinations for U.S. manufactured goods, agricultural products, and services suppliers.