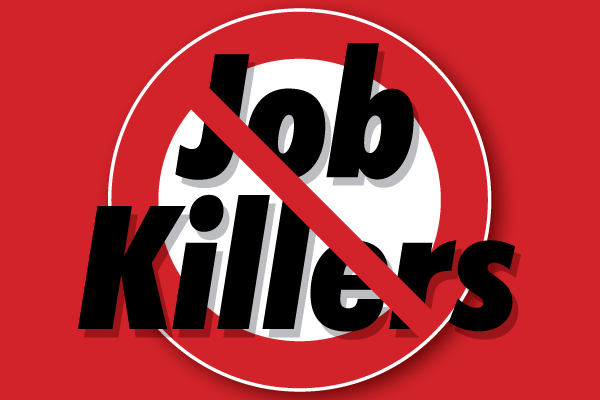 The California Chamber of Commerce has labeled a last-minute greenhouse gas (GHG) emissions reduction proposal a job killer.
The bill, AB 2133 (Quirk; D-Hayward), was gutted and amended on Tuesday, August 23, eight days before the end of the legislative session, to require statewide greenhouse gas emissions to be reduced to at least 55% below the 1990 level by December 31, 2030, which is a dramatic increase from the State's current goal of 40%.
A coalition of more than 110 organizations, including business, agriculture, industry groups and local chambers of commerce, joined the CalChamber in opposing AB 2133.
In a statement released on August 24, CalChamber President and CEO Jennifer Barrera reiterated the CalChamber's support of climate change laws and regulations that are "cost-effective, technology-neutral and promote the use of market-based strategies to reduce greenhouse gas emissions."
This new proposal, however, does not take any of these considerations into account and will actually lead to excessive costs, hurting both California residents and businesses, she said.
"At a time when Californians are suffering from high prices and the threat of a recession looms, increasing costs is the wrong approach to take," said Barrera. "Rushed consideration of this proposal robs everyone of the chance for thoughtful consideration about costs and consequences."
Last week, the CalChamber and a coalition of business groups and local chambers of commerce sent a letter to Governor Gavin Newsom pointing out that the time remaining in the legislative session is inadequate for the necessary full discussion of the climate proposals he issued the week prior, which included the more aggressive 2030 GHG reduction target.
Reduction Is 'Economically and Technically Infeasible'
AB 2133 undermines the existing public and transparent process at the California Air Resources Board (CARB), where hundreds of stakeholders have been engaged in a months-long inclusive Scoping Plan review.
Increasing the GHG 2030 emissions reduction target from 40% to 55% below the 1990 level would require the state to remove an additional 17 million gasoline vehicles off the road by 2030, according to data developed by CARB.
Additionally, CARB data shows that CARB's initial modeling of scenarios in this range concluded them to be "economically and technically infeasible due to the current lack of low-carbon energy infrastructure, unavailability of technology, large job loss and high implementation costs."
In a letter sent to legislators, the CalChamber stressed that it is vital to reconcile the recently released proposal with the proposals being vetted by the Board.
"Naturally the Legislature sets overall policy on these matters but has traditionally given great deference to the formal processes undertaken by the Air Board, which would be upended by a rushed consideration of this proposal," the CalChamber said.