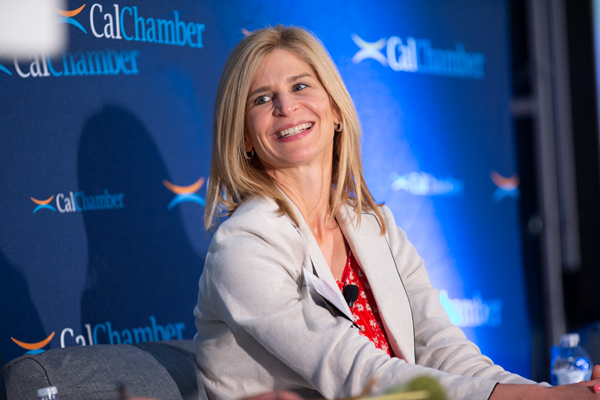 Erika Frank, longtime general counsel and executive vice president of legal affairs for the California Chamber of Commerce, has accepted a position at the Shaw Law Group, a leading employment law firm in Sacramento.
Frank has been integral to the CalChamber mission of helping California employers understand and comply with the interconnected puzzle of labor laws, court decisions and regulations.
"Although I'm sorry to see Erika leave the CalChamber, we all want to wish her the best and congratulate her on her new position," said CalChamber President and CEO Allan Zaremberg. "Erika's passion for the success of the CalChamber is unparalleled. Her dedication to ensuring that California businesses stay out of trouble and in compliance with California's complex labor laws has been a tremendous benefit for California's employers."
Frank leveraged more than two decades of legal, governmental and legislative experience in overseeing and contributing to CalChamber labor law and human resource compliance products, including the HRCalifornia website, webinars and seminars. As head of the Labor Law Helpline, she often picked up the phone to field questions from callers seeking compliance guidance.
She has been the most frequent host of The Workplace podcast since its launch in March 2019.
In addition to co-producing and presenting at CalChamber webinars and seminars, Frank organized the first HR Symposium in 2017. The now-annual event brings together top experts and key insiders for a California-focused discussion of human resources, workplace and compliance issues.
Frank will continue to appear as a webinar/seminar presenter through the end of this year.
As general counsel, Frank led CalChamber's Legal Affairs Department, which participates in court cases having a broad impact on California's economy and jobs climate—including workers' compensation reform, labor and employment, taxation, litigation reform and commercial free speech.
Frank joined the CalChamber in April 2004 as a policy advocate and began serving as general counsel shortly thereafter. Before assuming full-time general counsel responsibilities in late 2005, she lobbied the legislative and executive branches on taxation, civil litigation and lawsuit abuse issues.
Frank holds a B.A. in political science from the University of California, Santa Barbara, and earned her J.D. from the McGeorge School of Law, University of the Pacific.