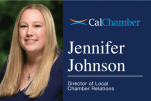 Jennifer Johnson, IOM, longtime specialist in chamber of commerce communications, has returned to the California Chamber of Commerce as director of local chamber relations.
Johnson will act as chief CalChamber liaison with the local chamber of commerce legislative action team and local chamber partners in the ongoing effort to provide easy-to-use labor and employment compliance materials to businesses throughout the state.
She also will serve as vice president of the Western Association of Chamber Executives (W.A.C.E.), an organization managed by the CalChamber and dedicated to promoting the professional growth of chamber of commerce executives.
"I'm delighted to welcome Jennifer back to our team," said Dave Kilby, CalChamber executive vice president, corporate affairs. "Her knowledge of community challenges and experience with local chambers will benefit both our local chamber partners and CalChamber in these turbulent times."
For the last year, Johnson has been the communications and marketing manager for the Fresno Chamber of Commerce, where she created and coordinated a variety of chamber communications, led the launch of the chamber's new website and was the liaison with local partners for the Revive Fresno County campaign.
Before her stint in Fresno, she served at CalChamber for more than a decade, eight years of which she spent supporting a broad range of projects and activities related to local chambers of commerce.
Johnson holds a B.A. in liberal studies with an emphasis on U.S. history, magna cum laude, from California State University, Northridge, where she also earned a multiple subject California teaching credential.
She is a graduate of the three-year W.A.C.E. Academy program, as well as the U.S. Chamber of Commerce Foundation's Institute for Organization Management (IOM) program.