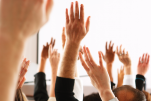 Thanks to the readers who voted in the online poll, the California Chamber of Commerce Grassroots program has a new name: Impact California.
Over the next few months, CalChamber will be revamping the Grassroots program to offer new resources, platforms and advocacy tools to help Californians use their voice to make an impact on legislation.
The program will continue to serve as a nonpartisan outlet dedicated to helping Californians become involved in the legislative process. Although the idea of involvement is relevant today, the name of the Grassroots program seemed outdated. This is why CalChamber is rebranding the program and asked for readers' help in the first step of the process—choosing a new name.
Join Impact California
The vision of Impact California is to provide every Californian with the knowledge to engage in the legislative process, because statewide change begins with California residents.
Every voice deserves to be heard and Impact California will provide the tools to help you use your voice to make a change.
To become a part of the Impact California program and receive information about current legislative issues, as well as tips on how to make a difference in state legislation, sign up at www.calchamber.com/impact.
Watch for the full-scale Impact California launch in January 2020.