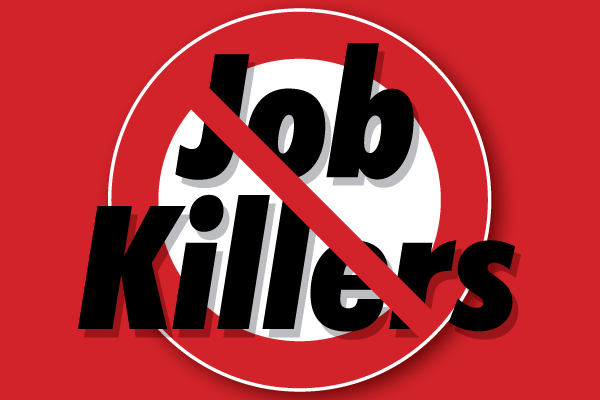 A California Chamber of Commerce-opposed job killer bill to limit the use of settlement agreements and arbitration agreements for labor and employment claims passed the Senate this week on a vote of 26-12 and is on its way to the Governor.
The CalChamber has tagged AB 3080 (Gonzalez Fletcher; D-San Diego) as a job killer because it will create more litigation, significant delays in the resolution of disputes, and higher costs for employers and employees.
Besides interfering with and essentially eliminating settlement agreements for labor and employment claims, AB 3080 exposes employers to criminal liability regarding arbitration agreements and essentially prohibits arbitration of labor and employment claims as a condition of employment.
AB 3080 is likely preempted under the Federal Arbitration Act (FAA) and will only delay the resolution of claims. Banning such agreements benefits the trial attorneys, not the employer or employee.
Delays
AB 3080 interferes with and will essentially eliminate settlement agreements as it prohibits an employer from requiring an applicant or employee to waive any right, forum, or procedure, or the right to pursue any claim in court under the Fair Employment and Housing Act (FEHA) or the Labor Code as a condition of any "contractual agreement."
Precluding the informal resolution of civil claims would simply overwhelm California's judiciary system by forcing all claims to be tried by a jury or judge, creating significant delays that would harm individuals who have suffered a wrong.
Criminal Liability
Given where AB 3080 provisions have been placed in the Labor Code, any violation will be a misdemeanor. Accordingly, an employer will face not only civil liability for any violation of the various provisions of AB 3080, but can face criminal charges as well.
Pre-empted by Federal Law
AB 3080 prohibits arbitration agreements made as a condition of employment for any claims arising under the Labor Code or FEHA and/or including class action waivers. Arbitration is a less formal, less costly, and less time-consuming forum to resolve a dispute. The cost savings is not in the compensation paid to the employees; it is in the fees paid to attorneys.
Although studies demonstrate that employees generally win the same percentage of cases in arbitration, if not more, the trial attorneys may not recover as much in fees. The ultimate beneficiaries of an arbitration and class action waiver ban are trial attorneys, not the employers and not the employees.
AB 3080 is also likely preempted, and therefore will create significant litigation without actually providing any benefit to employees. AB 3080 is very similar to AB 2617 (Weber; D-San Diego), passed and signed into law in 2014, which prohibited as "a condition of entering into a contract for the provisions of goods or services" the waiver of a forum for the resolution of claims, i.e. an arbitration clause. On March 14, 2018, the Second District Court of Appeal held in Saheli v. White Memorial Medical Center that AB 2617 was preempted under the FAA. The court stated:
"The above legislative history clearly shows the motivating force behind the enactment of AB 2617 was a belief that arbitration is inherently inferior to the courts for the adjudication of Ralph Act and Bane Act claims. In accordance with this dim view of arbitration, the Legislature placed special restrictions on waivers of judicial forums and procedures in connection with such claims. In practice, such restrictions discourage arbitration by invalidating otherwise valid arbitration agreements. It is precisely this sort of hostility to arbitration that the FAA prohibits."
Similar to AB 3080, the "special restrictions" at issue in AB 2617 was that arbitration clauses could not be created as a condition of the contract. The court in Saheli deemed such restrictions as preempted under FAA.
The decision in Saheli is consistent with a long history of cases on the issue of FAA preemption. To the extent that AB 3080 will undoubtedly be challenged as preempted under the FAA if passed and potentially invalidated, it will serve only to create additional litigation and not necessarily benefit employees as intended.
Action Needed
The CalChamber is asking members to contact the Governor and urge him to veto AB 3080. An easy-to-edit letter is available in the Grassroots Action Center at www.calchambervotes.com.