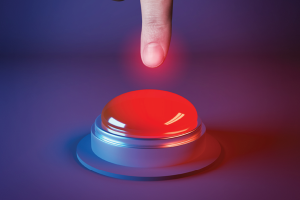 A California Chamber of Commerce-led coalition continues to seek changes to make more workable a bill that, among other provisions, requires hotels to provide employees who work alone with a panic button to summon immediate assistance when called.
Although the coalition does not oppose providing panic buttons to employees working alone in hotels, the coalition supports amendments to AB 1761 (Muratsuchi; D-Torrance) to ease administrative burdens. The CalChamber and coalition remain opposed to the bill unless it is amended because AB 1761 creates unworkable requirements for paid leave and allows for a patchwork of state and local rules on the subject. So far, the coalition's amendments have not been accepted.
The Senate Appropriations Committee is scheduled to consider AB 1761 when legislators return from summer recess.
Proposed Amendments
The amendments supported by the coalition include deleting the section of AB 1761 which specifies that cities and counties can adopt their own rules regarding panic buttons that are different than the provisions of AB 1761. Various and numerous local jurisdictions could require lodging establishments to purchase new panic buttons (different in each jurisdiction) and create new protocols. Implementing the protocols that differ from state requirements will be costly, and an administrative burden, particularly for hotels that have multiple properties in various cities and counties.
Under AB 1761, hotel employers in compliance with the bill could be subject to ever-changing requirements for new and different equipment, as well as new and different protocols. Each local ordinance could be different from all other local ordinances. The result will be a patchwork of requirements that could have owners of multiple properties in different cities with not only potentially different panic buttons for different locations, but also different protocols, leave policies, complaint response procedures and civil penalties. This lack of conformity and predictability for businesses creates costly equipment purchase requirements and administrative burdens, which is why the state occupies this space so that employers can create consistent policies across the state.
The CalChamber and coalition also propose the deletion of unnecessary signage requirements mandating that hotels post a notice on the back of each guestroom door with specific information about the law and the employees being equipped with panic buttons.
As the coalition letter states, the sign requirement is burdensome, and will merely add to other behind-the-door notices that guests do not typically read. The signage will do nothing to protect employees, but will expose employers to needless liability for civil penalties for each room that either does not include the notice, or posts an incorrect notice.
Paid Time Off, Accommodation
The bill also requires employers to provide paid time off to an employee who is the victim of assault in order to contact the police, a counselor, medical professional, or an attorney, thus creating a new paid leave requirement. But current law already offers employees protections to use available time off for these purposes, without retaliation.
In addition to the situations for which employees can take time off under Labor Code sections 230 and 230.1, employees that are subjected to an act of violence, sexual assault, or sexual harassment by a hotel guest should be included. The CalChamber and coalition state that AB 1761 should be amended to reflect the inclusion of hotel workers in those Labor Code sections.
The CalChamber and coalition also propose amending AB 1761 so that the reasonable accommodation it mandates for an employee who has informed the employer of being subjected to an act of violence, sexual assault or harassment by a hotel guest is limited to the time during which the guest remains on the premises. Once the guest is no longer on the premises, there should be no reason to transfer, reassign, modify schedules or change work facilities of the employee.
Action Needed
AB 1761 is set for hearing in the Senate Appropriations Committee on August 6.
CalChamber asks members to contact their senator and members of the committee and urge them to vote "no" on AB 1761, unless it is amended as proposed by CalChamber and the coalition.
An easy-to-edit sample letter is available in the grassroots action center at www.calchambervotes.com.