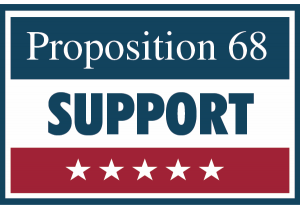 The California Chamber of Commerce Board of Directors voted to support Proposition 68 (The California Clean Water & Safe Parks Act), a bond measure that will appear on the June 2018 ballot. The measure funds vital investments in the state's natural resources, with a crucial emphasis on water quality and reliability.
CalChamber is proud to be a part of the broad coalition supporting Prop. 68 and urges members to join in issuing support for the bond today by clicking the link at the campaign website: yes68ca.com.
CalChamber's endorsement has been echoed by organizations throughout the state, including the League of California Cities, Association of California Water Agencies, the American Heart Association, California State Parks Foundation, The Nature Conservancy and League of Women Voters.
Why CalChamber Supports
The state Legislature passed SB 5 (de León; D-Los Angeles) to put the bond measure on the ballot. If approved by voters, the measure would authorize the issuance of $4 billion in general obligation bonds.
The funds for water quality and supply total $1.27 billion of the $4 billion (30%). The funds for environmental protection and restoration total $2.83 billion of the $4 billion (70%).
The CalChamber Board voted to support Prop. 68 because the measure:
• Provides funds for groundwater cleanups that improve water quality.
• Provides funds for flood protection and repair.
• Provides $250 million for clean drinking water and drought programs with $30 million available for grants in the San Joaquin River basin, where many communities lack access to clean, safe drinking water.
• Provides funds for parks in urban and disadvantaged communities.
• Improves state park tourism.
• Helps address the backlog of deferred maintenance at state parks.
• Invests in rural communities.
Why Join Endorsers
Prop. 68 will help tackle some of the most critical issues facing the state, helping to make California's water supplies more secure, making needed investments in drought preparedness and ensuring every California community has access to safe, quality parks.
The measure will fund projects to ensure clean drinking water throughout California, protect communities from floods, safeguard the state's oceans, rivers, lakes and streams, and build new outdoor spaces in neighborhoods with the greatest need.
The CalChamber invites members to join us in pushing for Prop. 68's passage by lending their names to the broad coalition of organizations already supporting the measure.
For further information on Prop. 68, please contact Sarah Melbostad at smelbostad@fionahuttonassoc.com or (818) 760-2121.