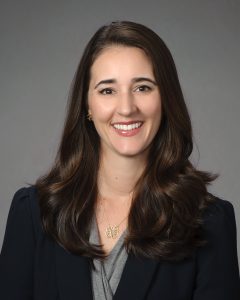 Laura E. Curtis has joined the California Chamber of Commerce as a policy advocate. She specializes in labor and employment, workers' compensation, and elections/fair political practices issues.
"Laura is a strong addition to the business advocacy team at the Chamber," said Allan Zaremberg, CalChamber president and CEO. "Her expertise in labor and employment law will be a huge asset to our members as she advocates for policies that will improve California's job climate and helps stop job killing policies that will add to the cumulative burdens employers face each day."
Curtis has more than four years of experience as a labor and employment attorney. Her work history includes service as a labor and employment attorney with The Mitzel Group, LLP in San Francisco, and Littler Mendelson, PC, in Walnut Creek. She also was a workers' compensation attorney with Mastagni Holstedt, APC in Sacramento.
Before starting her legal career, Curtis was an outside sales representative for SimplexGrinnell-TYCO, provider of fire and life safety services, directing sales and service teams and leading product training in the company's San Francisco region. She also was an account coordinator at Binger Communications, Inc. of San Diego, and a congressional intern in the Washington, D.C. office of Congressman Robert T. Matsui.
Curtis will be taking over responsibilities in the policy area previously handled by Jennifer Barrera, who will assume leadership of CalChamber's Policy Unit in the coming weeks.
Curtis holds a B.A. in communications with a minor in political science from the University of California, San Diego. She earned a J.D. from Santa Clara University School of Law, where she worked on the International Law Journal.