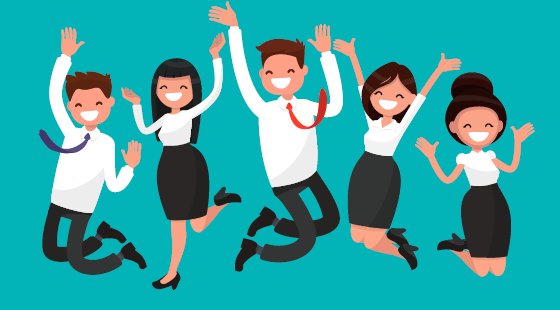 Thirty-two California Chamber of Commerce member companies were selected by Fortune as among the 100 best companies to work for in 2017.
Now in its 20th year, the "100 Best Companies to Work For" list is the most extensive employee survey in corporate America, with feedback from more than 230,000 employees, according to Fortune.
Featured Companies
The 32 CalChamber member companies featured in Fortune's list are:
• Google (information technology) is in the No. 1 spot for the eighth time in 11 years. Famous for luxe perks like gourmet food, the company also focuses on employee morale by having a generous parental leave policy, and fostering "safe and inclusive" workplaces.
• Kimley-Horn and Associates (professional services, No. 11) matches 401(k) contributions by 200%, for up to 4% of pay, and provides growth opportunities for staff and support for new employees.
• Kimpton Hotels (pet-friendly hotel chain, No. 14) values "uniqueness," providing flexible work schedules, doing away with hierarchy, and embracing a promote-from-within culture.
• PwC (professional services, No. 23). PwC employees love the growth, travel and leadership opportunities offered at the firm. PwC hired more than 5,500 new grads last year and pioneered a student loan pay-down benefit, in which employees can get $1,200 a year toward their student loans.
• Cooley (Silicon Valley law firm, No. 25) has a "team first" mentality and a "laid-back" culture, where staff can wear jeans to work. According to an employee, "You could walk into a conference room and not be able to tell the staff from the most senior partner."
• Hilton Worldwide (global hotel chain, No. 26). The 100-year-old hotel chain earned accolades for advancement opportunities and has started paying for employees' GEDs. Benefits include up to $10,000 reimbursement for adoption and generous parental-leave policies.
• EY (professional services, No. 29) received rave reviews from employees for its "phenomenal" flexibility that allows staffers to "work when and where they want" so that they have the freedom to enjoy life's little things.
• Hyatt (international hotel chain, No. 32) was praised by employees for its "amazing" benefits, such as complimentary or discounted hotel stays. The company also promotes an environment of "fairness, love, and respect."
• Marriott International (multinational hospitality company, No. 33). Growth opportunities have helped it keep nearly 13,000 employees for more than 20 years. Marriott also has focused on diversity—58% of frontline and middle managers are women, and 36% are minorities.
• USAA (financial services and insurance, No. 35) provides six weeks of vacation, 8% 401(k) match and flexible scheduling options.
• NuStar Energy (pipeline and terminal operator, No. 37) provides generous benefits, including free gym memberships and 24 hours per year in paid volunteer time.
• Nvidia (information technology, No. 39) gets employee praise for its "accessible" and "visionary" management. Big dreams for artificial intelligence are backed by what staff say are strong ethics and integrity.
• The Container Store (specialty retailer, No. 49). Its mantra is that "One great person equals three good people." Employees enjoy a higher hourly wage than the industry average.
• Mars (food and candy maker, No. 50) provides generous health care benefits, tuition reimbursement, and perks such as free snacks and beverages, subsidized lunch, fitness classes and massage therapy.
• Perkins Coie (law firm, No. 53) cultivates a culture of mutual respect, and leaders are praised for openness, honesty and inclusivity. The firm also offers sabbaticals and extra paid time off for "long-timers."
• Whole Foods Market (grocery chain, No. 58). The famously green grocery chain aims to make employees feel appreciated with their contributions. It also pays store staff "fairly" with gain sharing and bonuses when they come in under budget on labor costs.
• Deloitte (professional services, No. 64) values work/life balance, awarding staff an average 42 paid days off per year, in addition to a sabbatical program.
• Alston & Bird (law firm, No. 65). Employees rave about the people who make the law firm "great." "Everyone wants each other to succeed," said one employee.
• Cisco (information technology, No. 67) rewards bright thinking by holding a hackathon with $25,000 in prize money, and giving employees the "freedom to innovate."
• Ikea Holding U.S. (home goods retailer, No. 72) has an "egalitarian" and "inclusive" culture. More than half of staff are minorities and 47% are women.
• CarMax (used car retailer, No. 77) is committed to employee success and assigns all new hires to mentors when they start. The retailer also provides more than 40 average annual hours of training.
• Four Seasons Hotels and Resorts (luxury hotelier, No. 79). Staff are "proud" of the hotelier's "great reputation" and go above and beyond to help fellow coworkers in need. Employees get free vacation stays at Four Seasons hotels, and 50% off of food.
• First American (financial services, No. 82). Last year, 1,100 company team members participated in 36 breast cancer races, helping raise more than $217,000 for research and treatment of the disease.
• TEKsystems (information technology staffing/services firm, No. 83). The company culture is rooted in "appreciation." It shows its thanks by sending flowers to the parents and spouses of top performers. On the company's 30th anniversary, it gave employees $250 for each year they had been at the company.
• Accenture (professional services, No. 88) provides growth opportunities and employees work on "cutting-edge" projects that have the "potential to change the world." Accenture also focuses on work/life balance—more than 75% of staff have used flexible scheduling.
• American Fidelity Assurance (financial services and insurance, No. 89) makes people feel as if they're "in it for the long term" by providing pension plans, cushy 401(k) contributions, and bonuses. Other perks include car washes on-site and a personal trainer at the office gym.
• Bright Horizons Family Solutions (child care provider, No. 90) offers workers a 50% discount at Bright Horizons centers. Says one staffer: "There's no other company that would allow me to be with my children while building a career that I love."
• AT&T (telecommunications, No. 93) is undergoing a massive technology update. Rather than making big layoffs, the company is retraining more than 100,000 of its staff to work on modern equipment and thrive in today's tech-centric world. Last year, AT&T filled more than 40% of its open positions with internal candidates.
• Nordstrom (fashion specialty retailer, No. 94). Employees at Nordstrom say they are "empowered," "trusted and respected" by their company—there's only one rule employees need to follow while working at the retailer: "Use good judgment."
• Orrick Herrington & Sutcliffe (law firm, No. 96) believes work/life balance is of paramount importance and managers bend over backward to ensure work gets done without getting in the way of home life. The firm provides 35 days of personal time off and up to 22 weeks of maternity leave.
• PCL Construction (construction and real estate, No. 98) offers stock options to all employees, 90% of whom own shares. Dividends for long-term employees often exceed their annual salaries.
• FedEx (shipping, No. 99) compensates hard work with raises, bonuses and promotions. Workers also praised the company's benefits, which are extended to all employees, including part-timers in the United States.
To read more about the "100 Best Companies to Work For," visit fortune.com/best-companies/.