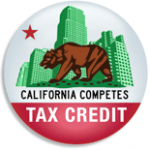 Thirteen California Chamber of Commerce member companies have been selected by the Governor's Office of Business and Economic Development (GO-Biz) as recipients of the California Competes Tax Credit.
The California Competes Tax Credit (CCTC) committee recently approved $91.4 million in tax credits for 114 companies expanding and creating jobs in California.
The awards will help these companies create a projected 8,223 jobs and generate more than $828 million in total investment across California, according to GO-Biz.
CalChamber members being awarded credits in this round include:
• General Motor Company; automobile manufacturer;
• Proterra, Inc.; electric automobile manufacturing;
• Renovate American, Inc.; energy efficiency consulting services;
• Procore Technologies, Inc.; software development;
• Safeway, Inc.; food manufacturing;
• Psyonix, Inc.; video game development;
• Fanatics Retail Group Fulfillment, Inc.; online retail warehouse and distribution;
• Labcon, North America; plastics manufacturing;
• Lulu's Fashion Lounge Inc.; clothing manufacturing;
• Montrose Environmental Group Inc.; emission testing services;
• Enviro Tech Chemical Services, Inc.; chemical manufacturing;
• Materion Brush, Inc; chemical and adhesive manufacturing; and
• Western Engineering Contractors, Inc.; engineering services.
The complete list of approved companies and award amounts is posted at business.ca.gov.
About California Competes
In 2013, the California Competes Tax Credit was created by Governor Edmund G. Brown Jr. to focus on helping businesses grow and stay in California. This fiscal year, GO-Biz allocated more than $240 million in total tax credits. Since 2014, GO-Biz has allocated $492.5 million to 688 companies projected to create 70,747 new jobs and make $14.4 billion in new investments.