Back by popular demand, Dan Walters will be a featured speaker at the California Chamber of Commerce 2017 Capitol Summit on May 31 in Sacramento.
The half-day summit will feature political insiders and CalChamber policy advocates who will address national campaigns and state policy issues.
Host Reception/Breakfast
Following the Capitol Summit, attendees are invited to the Sacramento Host Reception, an event co-sponsored by the CalChamber and the Sacramento Host Committee to provide networking opportunities for business leaders from all industries in California to discuss key issues facing the state.
The reception is a prelude to the Sacramento Host Breakfast the following morning, June 1. The Host Breakfast provides a venue at which California's top industry and government leaders can meet, socialize and discuss the contemporary issues facing businesses, the economy and government.
Traditionally, the Governor of California and the chair of the CalChamber Board of Directors speak on issues facing employers in California at the Host Breakfast. Leaders from business, agriculture, the administration, education, the military and legislators from throughout the state are invited to join the discussion.
Dan Walters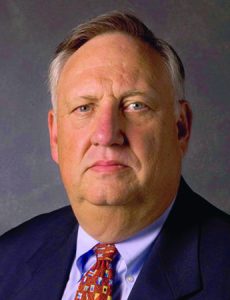 Walters has been a journalist for more than 50 years and has written more than 8,500 columns about California. The column now appears in more than 50 California newspapers.
He joined The Sacramento Union's Capitol bureau in 1975, just as Jerry Brown began his governorship, and later became the Union's Capitol bureau chief.
In 1981, Walters began writing the state's only daily newspaper column devoted to California political, economic, and social events, and in 1984, he and the column moved to The Sacramento Bee.
Walters has written about California and its politics in numerous publications and is a frequent guest on national television news shows, commenting on California politics. He is the author of The New California: Facing the 21st Century, the founding editor of the California Political Almanac, co-author of The Third House: Lobbyists, Money and Power in Sacramento, and contributed chapters to two other books, Remaking California and The New Political Geography of California.
Register by May 19
May 19 is the deadline to register for the Capitol Summit, Sacramento Host Reception and Breakfast. The cost is $65. Space is limited.
For more information or to register, visit www.calchamber.com/2017summit-host.