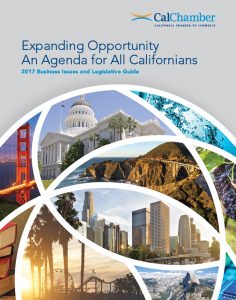 The California Chamber of Commerce 2017 Business Issues and Legislative Guide is available now on the CalChamber website at www.calchamber.com/businessissues.
This easy-to-reference publication compiles a cohesive answer to the state's complex economic dilemma: Expanding Opportunity.
The CalChamber Agenda for All Californians encompasses five critical goals so that all segments of the state's top 10 global economy have a chance to do better: invest in transportation and water infrastructure; increase housing supply; make energy more affordable; update labor laws and reduce litigation; and invest in education and a skilled workforce.
Chevron is the premier sponsor of this year's Guide.
Hard copies of the Guide are being mailed to CalChamber preferred and executive members who receive printed copies of Alert or who signed up last fall for the hard copy Guide. Preferred and executive members receiving the email Alert can request a hard copy of the Guide by emailing alert@calchamber.com.
Additional hard copies are available for purchase ($20 each). Mail checks to the California Chamber of Commerce, P.O. Box 1736, Sacramento, CA 95812-1736, Attn: Business Issues.
An e-book edition of the Guide, compatible with smartphones, tablets and desktop computers with an e-book reader installed, can be downloaded free at www.calchamber.com/businessissues. A PDF file also is available.