Information about subjects of interest and concern to the business community are available in multiple formats from the California Chamber of Commerce.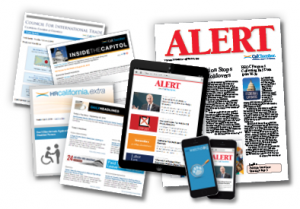 • CalChamber Alert app: For easy viewing of Alert articles on smartphones or tablets, download the app at calchamberalert.com/app. The app also offers news updates between regularly scheduled editions of the print Alert.
• The free weekly Trade Update e-newsletter keeps readers in touch with the latest international issues, offering international headlines, trade policy updates, a calendar of events and links to stories about CalChamber members. Sign up at calchamber.com/newsletters.
• Daily Headlines: This free email offers convenient links each workday to the CalChamber top story of the day, as well as a selection of news clippings from major newspapers throughout the state. The top story presents readers with the latest developments on legislation, regulations, court cases and other activities affecting businesses in California. Sign up at calchamber.com/newsletters.
• Inside the Capitol: Distributed each week during the most active periods of the legislative session (generally March through September), this e-newsletter reports on upcoming hearings or votes on priority business legislation. Sign up at calchamber.com/newsletters.
• HRWatchdog blog: Shares insights several times a week from CalChamber experts on federal and state legislation, court cases and governmental agency actions that affect employment law. Visit calchamber.com/hrwatchdog to receive updates via the blog app or email.
• HRCalifornia Extra e-newsletter: Presents twice monthly reports on the latest labor news and court cases and how these developments could affect employers. Sign up at calchamber.com/newsletters.