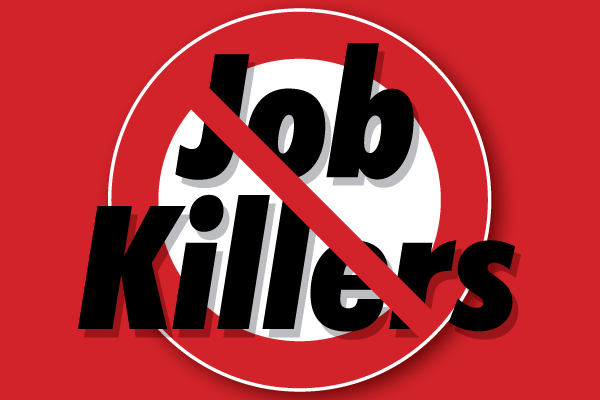 A California Chamber of Commerce-opposed job killer that would have created another barrier to construction of new, affordable housing is likely dead for the year following the recent legislative deadline for policy committees to meet and send bills to the next stage of the process.
SB 1318 (Wolk; D-Davis) inappropriately leveraged necessary affordable housing in order to solve infrastructure issues with the consequence that the housing won't be built by imposing requirements on water or wastewater districts to serve certain communities first.
The bill prohibited the expansion of water or wastewater service to new development until all disadvantaged communities in and around the existing providers had been served.
California needs to build 250,000 new housing units a year just to keep up with growth. The housing market was slow to recover from the economic downturn of the early 2000's, putting the state even further behind in meeting its housing needs. SB 1318 would have exacerbated the problem by putting up more roadblocks to building new homes and commercial centers.
CalChamber tagged SB 1318 as a job killer because prohibiting local governments from allowing any new development until all near or adjacent existing communities are served with water and wastewater systems imposes a de facto building moratorium.
Meanwhile, the lack of housing has pushed the price of homeownership through the roof, as well as putting tremendous pressure on the rental market. The high cost of housing threatens jobs because employers don't have affordable housing for employees in certain communities.
The problem of existing communities without adequate water or wastewater systems certainly needs to be addressed. However, the remedy should not be at the expense of new homes and jobs, CalChamber wrote in its opposition letter.
Job Killers Alive
When legislators return from their summer recess on August 1, the following nine job killer bills remain eligible for consideration:
• SB 1150 (Leno; D-San Francisco) Erodes Housing Availability. Increases liability risk and the cost of residential loans by allowing a party not on the mortgage loan to interfere with appropriate foreclosures and creates a private right of action for violations of overly complex and burdensome requirements. Assembly Floor.
• SB 32 (Pavley; D-Agoura Hills) Slows Economic Growth. Increases costs for California businesses, makes them less competitive and discourages economic growth by adopting further greenhouse gas emission reductions for 2030 without regard to the impact on individuals, jobs and the economy. In Assembly Appropriations Committee.
• AB 1611 (Committee on Budget) Increased Permit Processing Costs. Assembly Concurrence.
• SB 839 (Committee on Budget and Fiscal Review) Increased Permit Processing Costs. Senate Concurrence.
Both AB 1611 and SB 839 significantly increase the costs of permitting aerospace, recycling, oil and gas, and other critical waste facilities by eliminating permit applicants' option to be charged a predictable flat permitting fee and instead giving the Department of Toxic Substances Control carte blanche to charge whatever fee it determines, notwithstanding well-recognized and self-acknowledged deficiencies in DTSC's current permitting program that have resulted in excessive delays in permit processing.
• SB 654 (de León; D-Los Angeles) Creates Unworkable Hazardous Waste Permitting Process. Discourages investment in upgrading and improving hazardous waste facilities by shutting down hazardous waste facilities if the DTSC fails to take final action on the permit renewal application within a specified timeframe, even if the permit applicant acted diligently and in good faith throughout the permit application process. Assembly Inactive File.
• AB 1759 (Bonta; D-Alameda) Gas Price Increase. Jeopardizes the production of California-based fuel by banning the use of hydrogen fluoride and hydrofluoric acid at facilities that use more than 250 gallons and are located within two miles of a residence, notwithstanding the fact that there are significant safety regulations in place at the local, state and federal levels. In Assembly Natural Resources Committee.
• ACA 8 (Bloom; D-Santa Monica) Lowers Vote Requirement for Tax Increases. Adds complexity and uncertainty to the current tax structure and pressure to increase taxes on commercial, industrial and residential property owners by giving local governments new authority to enact special taxes for storm and wastewater infrastructure, including parcel taxes, by lowering the vote threshold from two-thirds to 55%. In Assembly Local Government Committee.
• AB 2782 (Bloom; D-Santa Monica) Targeted Tax. Threatens jobs in beverage, retail and restaurant industries by arbitrarily and unfairly targeting certain beverages for a new tax in order to fund health programs. In Assembly Health Committee.
• SCA 5 (Hancock; D-Berkeley) Split Roll. Undermines the protections of Proposition 13 by unfairly targeting commercial property owners and increasing their property taxes by assessing their property based upon current fair market value instead of acquired value. Such costs will ultimately be passed on to consumers and tenants through higher prices and will result in job loss as businesses struggle to absorb such a dramatic tax increase. In Senate Governance and Finance Committee.