A University of California, Santa Barbara student team, supported in part by the California Chamber of Commerce, is among the finalists in a competition to test the feasibility of a futuristic rapid transit system.
The 22-member student team was one of more than 115 student engineering teams that participated in the SpaceX Hyperloop Pod Competition Design Weekend at the end of January. Teams representing 27 U.S. states and 20 countries traveled to Texas A&M University for the competition.
High-Speed Travel
The Hyperloop transit pod, first outlined in 2013 by SpaceX CEO Elon Musk, involves transporting passengers via pods in depressurized tubes above ground. The pods in theory would move as fast as 700 miles per hour, enabling passengers to travel from Los Angeles to San Francisco in less than 40 minutes.
For the final competition, 30 student teams and one nonstudent team will build their pod prototype and test their design this August on a one-mile test track next to SpaceX headquarters in Hawthorne, California.
Other finalists in addition to the UC Santa Barbara team include teams from UC Irvine and UC Berkeley, the University of Southern California, and a team that counts students from Harvey Mudd College in Claremont among its participants.
In an email, UCSB Hyperloop team captain Trevor Fritz, a fourth-year mechanical engineering major, said the team focused on three design characteristics: affordability, simplicity and scalability.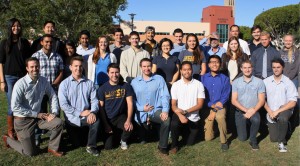 Fritz said teams were given a lot of freedom in designing their pods. "Ours looks nothing like the one Elon Musk designed. This is due mainly to the fact that our pod uses magnetic levitation whereas the pod Elon Musk envisioned used air bearings—similar in principle to those in an air hockey table—to levitate."
To keep costs down, the UCSB team chose "readily and cheaply available materials" found at local metal suppliers, like sheet aluminum, steel tubing, or fiberglass, as opposed to materials like carbon fiber, Fritz said.
The pod was designed so that the students on the team could assemble it themselves, Fritz said, noting that Joshua Kendrick of Valley Rock Mods has donated many hours of expert consulting and fabrication service to the team as it has started to build its frame. The pod is being built at the UCSB Mechanical Engineering Machine Shop.
The pod (14 feet long by 3 feet, 4-inches tall and 3-feet, 7 inches wide) is projected to cost a total of $50,000 to build. Renderings can be viewed on the team website at ucsbhyperloop.com.
To date, Fritz says the team has raised $40,000 toward that goal following donations from Raytheon, Northrop Grumman, Tenon Intersystems, the CalChamber and a private donor.
The team plans to create a Kickstarter, but also will be pursuing funding from additional sources, Fritz writes, adding, "significant contributions will get logos painted on our pod shell!"
The team of six women and 16 men includes 10 mechanical engineering majors, three computer engineering majors, four electrical engineering majors, two computer science majors, one person majoring in electrical engineering/physics, and two economics/accounting majors.
Judging
Eighty judges, including SpaceX and Tesla employees, plus 60 others from around the nation and world devoted 8 hours to reviewing more than 180 technical presentations at Texas A&M.
Judging was in three categories: 76 design and build, 18 design only, and 88 subsystems.
Designs were judged based on aerodynamics, propulsion, levitation, braking, electronics and safety.
More information, including photos and videos from the competition weekend, is available at hyperloop.tamu.edu.