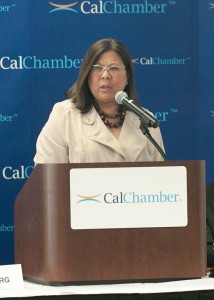 California has an "unsustainable" tax system, State Controller Betty T. Yee told the California Chamber of Commerce Board of Directors last week.
"We are relying on upper-income earners paying the majority of our personal income taxes—unsustainable," Yee said at the May 28 meeting of the CalChamber Board in Sacramento.
She said it is time for state leaders to look at comprehensive tax reform—"cracking open" the entire tax system and evaluating it against the principles of workability, fairness and certainty.
Nonpartisan Advice
Yee said that she has established a nonpartisan Council of Economic Advisors that will look at every proposal to reform the state's tax system and offer their thoughts on each proposal's workability, feasibility—not political feasibility, but the proposal's practical effects—unintended consequences and any other viable alternatives.
The goal, Yee said, is to establish a "compendium of these perspectives" to serve as a reference for voters and decision makers.
Having a diverse array of perspectives is very helpful, Yee said, adding that she has no view of any set outcome; she simply wants to ensure there will be "a good analysis from those who depend on these tax rules for doing business here in California and living here in California."
Having served on the state Board of Equalization and the tax appeals board for the last 10 years, Yee said, she believes that the time to look at the workability, unintended consequences and other issues related to a tax proposal is "up front," before the proposal is put into effect.
Yee noted that the current stability of the state budget provides an opportunity for her agency to do some planning and shore up its ability to produce financial statements. The Controller's Office has received some new funds for that purpose, she said.
Following a recap of positive economic indicators, including 57 consecutive months of nonfarm job growth, Yee listed risks to the economy: the drought, climate change and sea level rise, and the availability of affordable housing.
Information from Business
In closing, Yee commented that much of what her office does in providing independent oversight of the state's finances depends on information from the business community.
She expressed her hope for "an ongoing relationship with this chamber to inform the work that we do." In the continuing effort to deal with the challenges facing the state, Yee said, "Your voice is vitally important in this discussion."