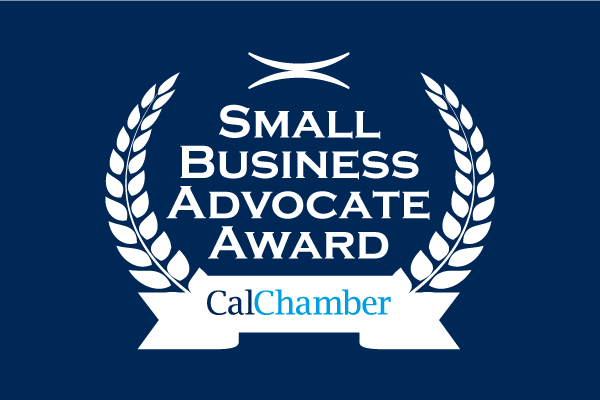 Just one month remains to submit nominations for the California Chamber of Commerce Small Business Advocate of the Year Award, an annual recognition of small business owners who have done an exceptional job with their local, state and national advocacy efforts on behalf of small businesses.
"Every year the award winners demonstrate how one person speaking out can make a difference," said Dave Kilby, CalChamber executive vice president, corporate affairs. "Nominating that outstanding spokesperson from your community helps bring statewide recognition to the importance of small business advocacy."
Application
The application should include information regarding how the nominee has significantly contributed as an outstanding advocate for small business in any of the following ways:
• Held leadership role or worked on statewide ballot measures;
• Testified before state Legislature;
• Held leadership role or worked on local ballot measures;
• Represented chamber before local government;
• Active in federal legislation.
The application also should identify specific issues the nominee has worked on or advocated during the year.
Additional required materials:
• Describe in approximately 300 words why nominee should be selected.
• News articles or other exhibitions as supporting materials.
• Letter of recommendation from local chamber of commerce president or chairman of the board.
Deadline
Nominations are due by April 28. The nomination form is available at www.calchamber.com/smallbusiness or may be requested from the Local Chamber Department at (916) 444-6670.