Political insiders and California Chamber of Commerce policy advocates will describe the impact of redistricting and primary election reforms on how public policies are developed at the Capitol Summit in Sacramento on May 27.
CalChamber President and CEO Allan Zaremberg will moderate a discussion by political practitioners from both major parties:
• Rob Stutzman, founder and president of Stutzman Public Affairs, a Sacramento-based firm specializing in campaigns, communications and crisis management.
• Robin Swanson, principal, Swanson Communications, a strategic political communications firm.
Following lunch, former Assembly Republican Leader Mike Villines, Villines Group LLC, will moderate as CalChamber policy advocates provide updates on the status of the hottest major policy topics of concern to business.
Host Reception/Breakfast
Following the Capitol Summit, attendees are invited to attend the Sacramento Host Reception, an event co-sponsored by the CalChamber and the Sacramento Host Committee to provide networking opportunities for business leaders from all industries in California to discuss key issues facing the state.
The reception is a prelude to the Sacramento Host Breakfast the following morning, May 28.The Host Breakfast provides a venue at which California's top industry and government leaders can meet, socialize and discuss the contemporary issues facing businesses, the economy and government.
Traditionally, the Governor of California and the chair of the CalChamber Board of Directors speak on issues facing employers in California. Leaders from business, agriculture, the administration, education, the military and legislators from throughout the state are invited to join the discussion.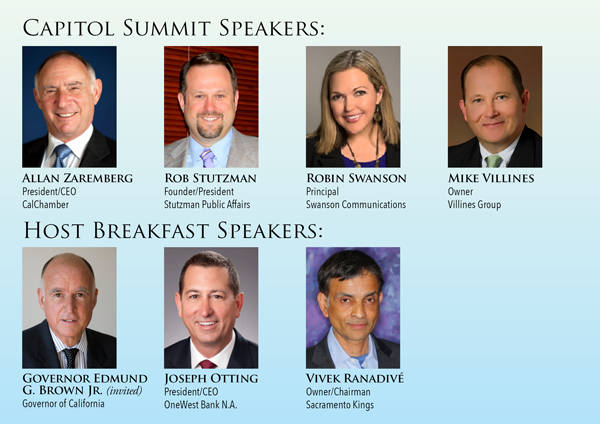 Registration
Registration for the Capitol Summit, Host Reception and Host Breakfast is $60. Space is limited. The registration deadline is May 15.
For more information or to register, visit www.regonline.com
Staff Contact: Danielle Fournier