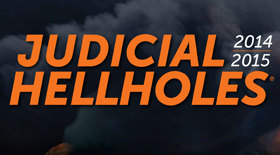 California was identified as the No. 2 "Judicial Hellhole" in the nation, after two years of taking the No. 1 spot, in the latest ranking of the "most unfair" civil litigation courts by the American Tort Reform Foundation (ATRF).
The state was narrowly beaten by New York, but the report's authors state that "there are so many things wrong" with the administration of civil justice in California that a third consecutive No. 1 ranking "would have been perfectly justifiable."
More than 1 million new lawsuits are filed in the state every year and California is so large that court rulings invariably affect people across the nation who are trying to do business in the state.
Lead Paint, Painkillers
According to the report, the public nuisance theory of liability as applied to lead paint has been tried by personal injury lawyers for years as a means of trying to slip under the higher burden of proof required by products liability law. This tactic had failed everywhere, until last year, when Santa Clara Superior Court Judge James Kleinberg ordered three paint companies to pay $1.15 billion to plaintiff counties in a lead paint-as-public nuisance case.
The ruling inspired the Santa Clara County, Orange County and private-sector contingency-fee lawyers to sue narcotics makers in 2014, alleging the makers have caused any epidemic of addiction to painkillers with a "campaign of deception" designed to boost profits. Rather than pursue the litigation under strict products liability law, Judicial Hellholes states, county prosecutors and lawyers are relying on the easily exploited false advertising and unfair competition law, and more adaptable law of public nuisance.
Asbestos Hot-Zones
California continues to be a hotbed for asbestos lawsuits. This area was cited last year in Judicial Hellholes, and it continues to be an issue. In 2014, an award of $18 million in punitive damages to a single plaintiff and his wife was affirmed by the California Second District Court of Appeal. In Whalen v. John Crane Inc., No. RG14711964, an Alameda County jury rendered a nearly $71 million verdict for another single asbestos plaintiff and his wife against a gasket manufacturer.
ADA, Propositio 65 Lawsuits
More than 40% of all Americans with Disabilities Act (ADA) lawsuits in the country occur in California. Most troubling is that a finite group of plaintiffs specialize in "disability-access" lawsuits, and exploit federal ADA and state civil rights laws for personal profit. In fact, four of the most active plaintiffs have filed 820 ADA lawsuits throughout the state, affecting an estimated 35,000 shops and restaurants, according to the report.
"California has been home to a growing wave of often ridiculous consumer class actions that target the labeling and marketing of various food and beverage products," the report states. It remains highly critical of the abuse of Proposition 65, a voter-passed referendum that requires business and public establishments to post warning signs when even trace amounts of some 800 different chemicals may be present. The report highlights the cases of Cortina v. PepsiCo, Inc. and Cortina v. Goya Foods, Inc., filed in January 2014 by a personal injury lawyer, Jack Fitzgerald, alleging that a byproduct of caramel coloring in soft drinks and other products is harmful, even though the Food and Drug Administration has stated it is not.
Good News
Not all happening in California is bad news. The report highlights four bright spots that surfaced during the year in California:
• Wage and Hour Litigation: The California Supreme Court in Duran v. U.S. Bank National Association reversed a $15 million plaintiffs' verdict in the class action that had been tried in Alameda County Superior Court.
• Limiting Liability for Commercial Property Owners: the U.S. Court of Appeals for the Ninth Circuit held in Verdugo v. Target Corporation that a business does not owe a duty to its customers to obtain and make available an automated external defibrillator (AED) for use in a medical emergency.
• GMO Lawsuits: California lawmakers rejected-opposed SB 1381 (Evans; D-Santa Rosa), which would have imposed a California-only labeling requirement.
• Propositions 45 and 46 were rejected by California voters. Proposition 45 would have required the Insurance Commissioner to approve rates for all health insurance coverage before it can be sold to consumers; and Proposition 46 was a trial lawyer-sponsored measure that sought to increase the cap on noneconomic damages for medical malpractice lawsuits.
ATRF was founded in 1997 to educate the public about the impact of liability law on the private, public and business sectors. Since 2002, it has published annual reports documenting abuse within the civil justice system.
To view the full Judicial Hellholes report, visit www.judicialhellholes.org.