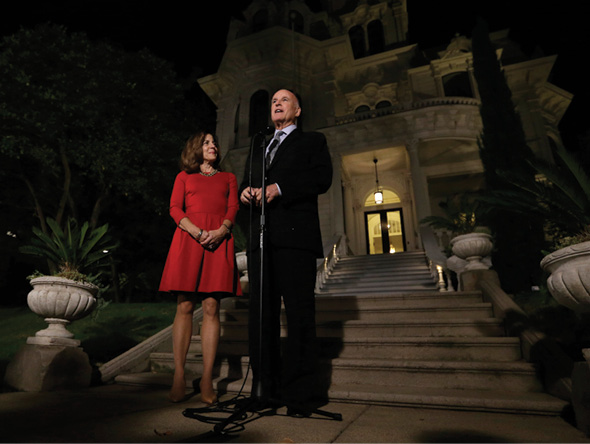 Governor Edmund G Brown Jr., accompanied by First Lady Anne Gust Brown, smiles as he talks to reporters outside the old Governor's Mansion after winning re-election.
Governor Edmund G. Brown Jr. easily won re-election to an unprecedented fourth term in office this week and promised to "reach across the aisle" in his final four years as Governor.
Polls throughout the campaign consistently showed Brown with a sizable lead over Republican challenger Neel Kashkari, who conceded shortly after the polls closed Tuesday evening.
Appearing on election night outside the historic Governor's mansion with First Lady Anne Gust Brown, the Governor said he would continue steering the state in a "progressive but fiscally responsible direction."
He cited the bipartisan agreement that produced the Proposition 1 water bond and Proposition 2 "rainy day fund" measure on the ballot and promised more of such efforts.
"To build for the long term, you have to include more than just the people who make you comfortable," the Governor observed.
Before the election, the Governor had amassed a sizable campaign fund, which he spent largely in support of Propositions 1 and 2 (see next story).
Statewide Offices
The Democratic Party continues to hold all constitutional/statewide offices.
• Voters returned Lieutenant Governor Gavin Newsom, Attorney General Kamala Harris and Insurance Commissioner Dave Jones to office.
• Although early election returns showed Republican Pete Peterson ahead of former Senator Alex Padilla (D-Pacoima) in the race for Secretary of State, by the morning after the election, Padilla led, 52.5% to 47.5%.
• Democratic State Controller John Chiang moved to the office of Treasurer, garnering more votes than Republican businessman Greg Conlon, 58% to 42%.
• Betty Yee, a Democratic member of the state Board of Equalization, secured 53% of the votes for state Controller to 47% for Ashley Swearengin, Republican mayor of Fresno.
For the nonpartisan office of Superintendent of Public Instruction, a majority of voters chose incumbent Tom Torlakson rather than challenger Marshall Tuck, a charter school advocate.
California Senate
In the Senate, Democrats will not have a veto-proof two-thirds majority as Republicans will hold 13 of the 40 seats, even with the impending departure of Senator Mimi Walters (R-Irvine) for Congress.
Republican Orange County Supervisor Janet Nguyen (Garden Grove) defeated former Democratic Assemblyman Jose Solorio for the 34th Senate District seat formerly held by Democrat Lou Correa (Santa Ana).
Riverside County Supervisor Jeff Stone, a Republican from Temecula, won election to the 28th Senate District seat in a campaign against former Assemblymember Bonnie Garcia, also a Republican.
Senate President Pro-Tem Kevin de León (D-Los Angeles) easily won re-election in the 24th Senate District. Among the newly elected Democrats are two legislators  moving up from the Assembly, Richard Pan (Sacramento) and Bob Wieckowski (Fremont), plus former Assembly Speaker Bob Hertzberg (San Fernando Valley) and former Assemblymember Tony Mendoza (Artesia).
California Assembly
In the Assembly, a number of races were too close to call, but as Alert went to print, the party breakdown appeared to have shifted slightly with Democrats still holding a majority of 53 seats to 27 for the Republicans.
Among the close races were those for the 39th Assembly District seat pitting incumbent Assemblymember Raul Bocanegra (D-Pacoima) and challenger Patty Lopez, a Democrat and community organizer who represents educational institutions. Bocanegra had 49.7% of the vote to 50.3% for Lopez.