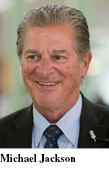 Taking action on issues that matter to him has been second nature to Redondo Beach business leader Michael Jackson for decades.
Jackson, a 2014 recipient of the California Chamber of Commerce Small Business Advocate of the Year Award, traces his interest in advocacy to his college days, when he was interning at the California State Capitol while working toward his master's degree in public administration at California State University, Chico.
Advocacy "was just part of the way my life evolved," says Jackson, current chair of the Redondo Beach Chamber of Commerce and Visitors Bureau and vice president of business development at The Dardanelle Group Inc., a transportation consulting company based in Redondo Beach.
Before his current positions, Jackson spent 27 years in government relations posts with TRW Inc. and Boeing, with responsibilities that included representing each company's legislative and political interests with state, federal and local elected officials.
That aerospace industry experience has proven helpful in keeping the chamber "on top of critical issues that face our community," according to Dinah Lary, Jackson's predecessor as chair of the Redondo Beach Chamber Board.
"He eagerly shares his vast knowledge and experience of the legislative and political process with each project he works on," Lary wrote in recommending Jackson for the CalChamber award.
"I think as a chamber member one of the most important things you can do is represent the interests of small business before government agencies at all levels," Jackson says. "If we don't do it, we won't have the opportunity to communicate the true effects of punitive, anti-business legislation and regulation."
Jackson has lobbied both state and federal offices, agencies and executive offices in support of the federal Surface Transportation Act to secure additional transportation funding for California, specifically for Southern California.
He also has worked to secure federal funding for the ports of Los Angeles and Long Beach.
Local Efforts
Advocacy on local issues is equally important to Jackson, who describes a key responsibility for a chamber of commerce:
"First and foremost is representing the community itself," Jackson says. "Many people don't want to get involved in politics. But as a leader in the business community, I think it's really important that we get involved, making sure we elect pro-business city councilmen and that we advocate pro-business policies that affect our local community."
Jackson created a "local issues" committee and serves on the Redondo Beach Chamber's Government Relations Council. He also heads the chamber's Political Action Committee and is leading the chamber through a community issues polling process.
As chairman of the city Harbor Commission, Jackson played a key role in the revitalization of the Redondo Beach waterfront, and continues to advocate on behalf of waterfront business owners to make significant changes to the city's aging pier and harbor facilities.
Waterfront business owners have committed to significant renovations over the next three years, and the city also is investing in public facilities.
Business Challenge
Asked about the challenges facing California business, Jackson starts with what he deems the biggest of these: "Being taken for granted."
Citing the Democratic control of the Legislature, Jackson states, "We have to stand up and represent the fact that we are not partisan. We are pro-jobs and jobs are good. It's a bipartisan product of what we have to do. The public sector cannot employ everyone; the private sector is who pays the taxes."
Getting Involved
For business people interested in getting involved in advocacy, Jackson has this advice:
"I think the biggest thing is don't assume that everyone else is doing it," Jackson says. "Never ask me, 'Why should I get involved in the chamber of commerce?' or 'What am I going to get out of it?'
"You get out of it what you put into it. It's the intangible stuff that you really can see the benefits from. And after a while, you've got a dozen things you're doing on behalf of the business community. That really is so fulfilling and it's a lot of fun."