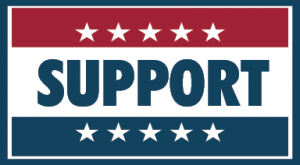 Yes to Water Supply/Storage, Rainy Day Reserve
The California Chamber of Commerce is supporting Proposition 1 and Proposition 2 on the November general election ballot.
Proposition 1, a $7.5 billion water bond with significant funding for needed water storage projects, is the result of a historic bipartisan agreement.
Proposition 2 is a plan to stabilize the state budget by requiring lawmakers to pay down debt and put money in a rainy day reserve fund during good economic times to avert drastic budget cuts in bad times.
"Water storage projects in Proposition 1 help the state store water in wet years to draw upon during drier ones," said CalChamber President and CEO Allan Zaremberg. "Similarly, Proposition 2 forces the state to save money in good economic times to prevent severe cutbacks to schools, public safety and other essential services when revenues drop."
Prop. 1: Water Bond
Although scaled down from a previous bond package that critics said was too large, Proposition 1 includes $2.7 billion, including continuous appropriation, in funding for water storage projects (compared to $3 billion in the previous proposal).
Funding is allocated for water reservoirs, water use efficiency and recycling, groundwater management, safe drinking water (particularly in disadvantaged communities), watershed restoration and increasing water flows in key rivers and streams.
"A reliable water supply is critical to numerous sectors of the state's economy," said Zaremberg. "Passing Proposition 1 is an important step toward making sure more areas of California have improved access to the water they need."
Prop. 2: Rainy Day Fund
CalChamber's Zaremberg has joined Governor Edmund G. Brown Jr. and Assembly Speaker Emeritus John A. Pérez in signing the ballot arguments in support of Proposition 2.
Placed on the ballot with bipartisan support, Proposition 2 places in the State Constitution the requirement to create a rainy day fund, saving money and paying down state debts when times are good.
The constitutionally protected reserve can be used to protect schools, public safety and other vital services in bad times.
Preventing politicians from spending temporary revenue spikes for ongoing spending will keep the state from spending more than it can afford.
The ballot argument points out that just three years ago, California faced a $26 billion budget deficit "that required the Legislature to make painful cuts and voters to approve temporary tax increases.
"Proposition 2 will make sure that we don't repeat this cycle of boom and bust budgeting."
Campaign Website
Ongoing information about the campaign in support of Propositions 1 and 2 is available on the campaign website, www.yesonprops1and2.com.