First Application Window for California Competes Credits Starts July 20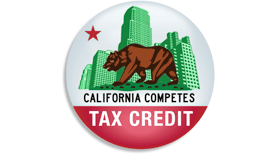 The Governor's Office of Business and Economic Development (GO-Biz) has posted the California Competes Tax Credit application periods for fiscal year 2015–16.
The tax credit is an income tax credit made available to businesses that want to locate in California or stay and grow in the state. Roughly $200 million in credits will be made available for the fiscal year, which is an increase of about $50 million from the previous year.
Application Periods
GO-Biz will accept applications during the following periods:
• July 20, 2015 through August 17, 2015 ($75 million in credits will be available);
• January 4, 2016 through January 25, 2016 ($75 million in credits will be available);
• March 7, 2016 through March 28, 2016 ($50.9 million plus any remaining unallocated amounts from the previous application periods will be available).
How to Apply
Any business or industry may apply for this tax credit, regardless of size. Twenty-five percent of the yearly total credits, however, are reserved for small businesses.
GO-Biz has scheduled workshops in the coming weeks to explain how to apply for the tax credit. More information and a calendar of workshops is available at www.business.ca.gov.
To apply for the California Competes Tax Credit, visit www.calcompetes.ca.gov during the application periods specified.